A Message from the WITA Executive Board
The Executive Board would like to take this opportunity to congratulate our ten members on their retirements at the end of this school year. It is always a bittersweet time of year when some of our colleagues move on from the classroom, but we know it is with great pride that they can look back on all that they have given to the students who have passed through their classes. This year's group of retirees represents two hundred and forty-two years of teaching experience in the West Islip School District as well as time spent mentoring new teachers, contributing to committees, shaping the culture and direction of the district, and supporting fellow WITA members.
Please join us in congratulating our fellow members as they move into retirement!
Dennis Adams, Science, Udall Road Middle School
Denise Campasano, Elementary, Bayview Elementary School
Pamela Cooke, Elementary, Bayview Elementary School
Lynn Genovese, Special Education, St. John the Baptist High School
Joanne Macrelli, Business, West Islip High School
Karen Nordland, Elementary, Paul J. Bellew Elementary School
Lawrence Sciarrino, Mathematics, Udall Road Middle School
Suzanne Sciarrino, Elementary, Bayview Elementary School
Shelia Siragusa, Reading, Bayview Elementary School
Elizabeth Winter, Science, West Islip High School
The Social Committee, led by chairperson Karen McCarthy, has been working hard to plan our annual End of the Year Celebration, where we will honor these ten retirees. Please join us in celebrating their accomplishments and the friendship and support they have given us all. The celebration will be held on Friday, June 2nd, 2023, at Captain Bill's in Bay Shore. Please see a delegate to purchase tickets.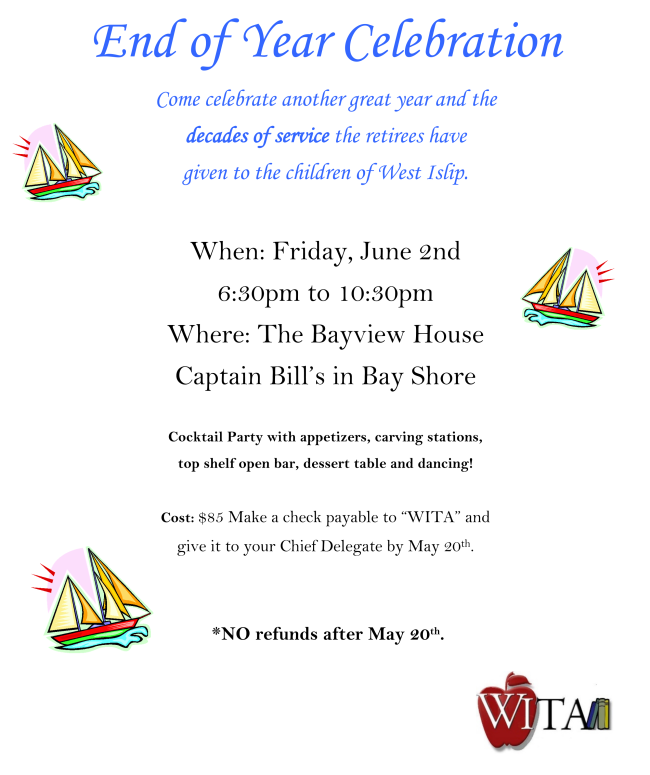 Each year the WITA Journal Committee, led by Chairperson Theresa Robertson, creates a journal where personal congratulations, individual messages, memories, and stories can be shared. These 'One-Liners' are a great way to acknowledge the people who have worked alongside us as they move into retirement. You can add your message to the WITA Journal by seeing a building delegate.